Southern Minarets Backpack Trip
California Sierra Nevada
August 4-9, 205
My wife Rosemary and I began at Devil's Postpile, hiked to King Creek, camped at Fern Lake. Then on to Anona Lake, cross country to Gertrude Lake, to Ashley Lake. We then went back to the trail and up to Superior Lake, and camped at Beck Lake. We returned down the trail until we reached the junction with the Minaret Falls trail, and then we went cross country alongside King Creek. We joined up with the trail where it crosses King Creek about two miles from Devil's Postpile.
For a larger map of our trip, click on the map icon below: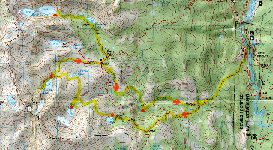 Click on any image for a larger version.
This page : King Creek, Anona Lake, Gertrude Lake, to the Hanging Gardens of Ashley Lake
Next page: Hanging Gardens of Ashley Lake, Beck Lake, Superior Lake, to our return along the King Creek Cascades
Last page: Along King Creek Cascades, back to Devil's Postpile
| | | |
| --- | --- | --- |
| Rich wades across King Creek | Campsite at Fern Lake, first night | Approaching Anona Lake. |
| Heather at Anona. | Anona Lake. Nobody else was camped there. | Cascades at Anona Lake |
| Campsite at Anona | Lone Juniper | Anona |
| Anona snowfield in the evening | | Anona dawn |
| cross country over the ridge | The pass to Gertrude Lakes | Rich at Gertrude |
| Rosie at Gertrude Lake | Gertrude plateau | White Heather |
| Indian Paintbrush | Gertrude Lakes and clouds | cross country to find Ashley Lake |
| Ashley Lake | Ashley cascades | campsite at Ashley |
| | Hiking over the snow to the cascades | Rosemary climbing the cascades |
| Looking back to our campsite on Ashley Lake | Calving ice at Ashley | the Hanging Gardens of Ashley Lake |
<![if !supportEmptyParas]> <![endif]>